10 Tips to Prevent Frozen Pipes in your Northern Lake County Home
1/20/2023 (Permalink)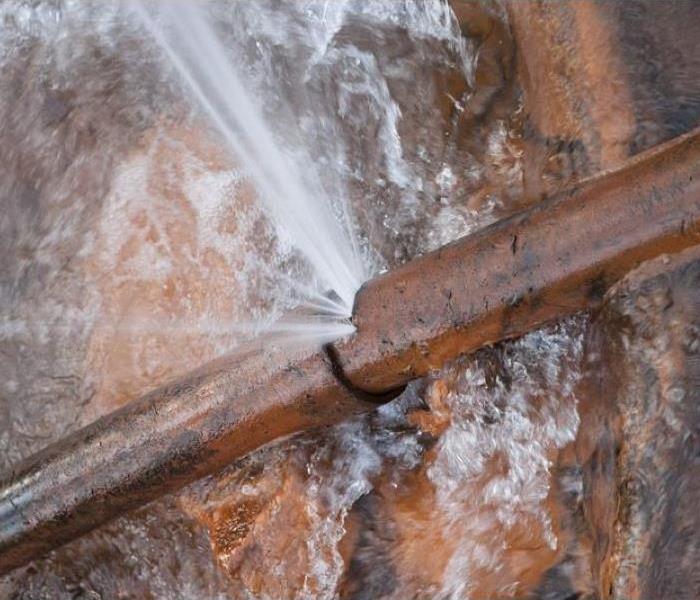 Burst plumbing can release up to 12 gallons of water per minute! That can create a water damage disaster.
Frozen or burst pipes are expensive problems that homeowners dread facing during blustery Midwest winters. Here are ten simple tips for homeowners to help prevent the frustration and mess of this common plumbing nightmare.
Insulate Pipes
This is a relatively inexpensive task that could save you thousands in potential repairs. When insulating, pay particular attention to pipes in unheated, interior spaces of your home, such as in your attic, garage or basement. The most common kinds of pipe insulation are made from fiberglass, polyethylene or foam
Open Cabinet Doors
Keep kitchen and bathroom cabinet doors open during particularly cold temps to promote warm air circulation around plumbing fixtures. You may need to find a temporary home for any household chemicals if you have children or curious pets.
Keep Thermostat Settings Consistent
This may cost you a little more overall, but the cost is a small fraction of the potential damage caused by a burst pipe.
Seal Crawl Spaces
If your winter looks like it will be especially bitter, you will probably need to temporarily cover any ventilated crawl spaces in your home, which will reduce the amount of cold air surrounding your pipes.
Use Heating Tape
This is helpful in exterior spaces that are harder to quickly access. There are two different kinds of heating tape you can use — self-monitoring and manual. The first type of heating tape has a sensor and turns on and off by itself whenever it senses that the pipe needs more heat. The manual type of heating tape requires you to plug it in whenever heat is needed and unplug it once the pipe is warm. Like any heating system, electrical heating tape can be dangerous. Make sure to follow the manufacturer's instructions and safety procedures when applying it to your pipe systems.
Keep Garage Doors Closed
This is an easy one! A garage door accidentally left open leaves any water supply lines vulnerable to freezing temperatures, which is a disaster waiting to happen.
Let Faucets Drip
Running water, even a small trickle, carries more energy than standing water. Friction warms the water slightly, making it more unlikely to freeze. This will also relieve pressure in pipes which could save them from bursting even if they do freeze.
Seal Cracks and Openings
Perform an inspection of your home. Do you find any cracks or openings? Caulk these areas to keep excess frigid air from entering your home.
Open Interior Doors
This will help keep temperature consistent through your home.
Keep the Heat On
It may be tempting to turn off the heat to save on energy bills while you are out of town, but keeping the thermostat above 55 degrees or higher is appropriate to keep your pipes safe from freezing.
Even if you diligently maintain your home, you may still sustain damage from frozen plumbing. In the event you need immediate help, call SERVPRO of Gurnee any time at 847-838-2954. We are here to help 24/7/365 and will even call a plumber for you if needed.