After the Storm: Assessing Health and Property Damage in Northern Lake County, IL
2/12/2023 (Permalink)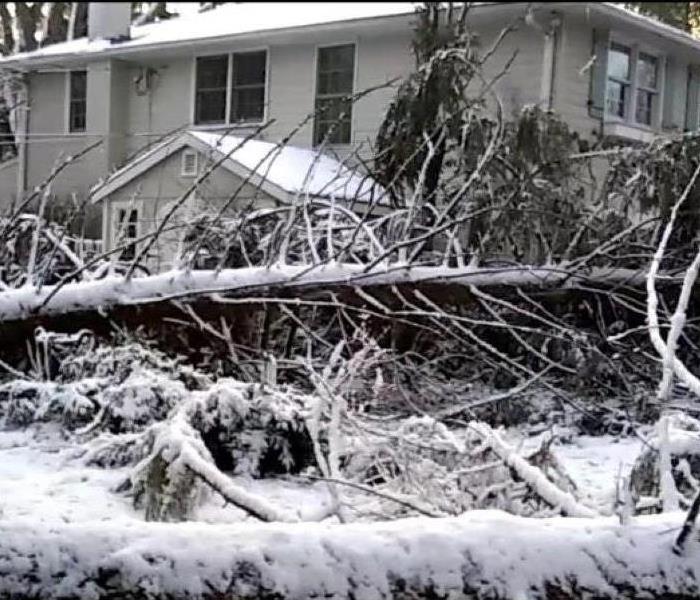 Winter storms can cause major damage to your home. Inspect the exterior and interior after a storm and call us if you need help!
After a severe winter storm, there is much to assess. The number one concern is the physical well being of yourself and your family. Secondly, you'll want to assess any damage to your property. Here are some tips for both from the American Red Cross and FEMA:
Check for Frostbite
Frostbite can cause loss of feeling and color around the face, fingers, and toes. Signs may include numbness, white or grayish-yellow skin, and firm or waxy skin. Actions to take include going to a warm room, soaking in warm water, and using body heat to warm. Do not massage or use a heating pad
Check for Hypothermia
Hypothermia is an unusually low body temperature. A temperature below 95 degrees is an emergency. Signs could include shivering, exhaustion, confusion, fumbling hands, memory loss, slurred speech, and drowsiness. Action to take include going to a warm room, warming the center of the body first—chest, neck, head, and groin. Keep dry and wrapped up in warm blankets, including the head and neck.
Make a careful and thorough inspection of your home's structural elements
Check the outside of your home before you enter
Look for loose power lines, broken or damaged gas lines, foundation cracks, missing support beams or other damage. Damage on the outside can indicate a serious problem inside. Ask a building inspector or contractor to check the structure before you enter.
Is your ceiling sagging? That means it got wet – which makes it heavy and dangerous. It will have to be replaced.
If power is out, use a flashlight. Do not use any open flame, including candles, to inspect for damage or serve as alternate lighting.
Take photographs of the damage. You may need these to substantiate insurance claims later.
If you do find damage, call SERVPRO of Gurnee for help. We are experienced in these situations, and we know what to do next. We are a preferred vendor for most insurance companies, and we can help with your claim if you choose to file one. We are here to help 24/7/365.