Board-Up Services for your Northern Lake County, IL Business
6/11/2020 (Permalink)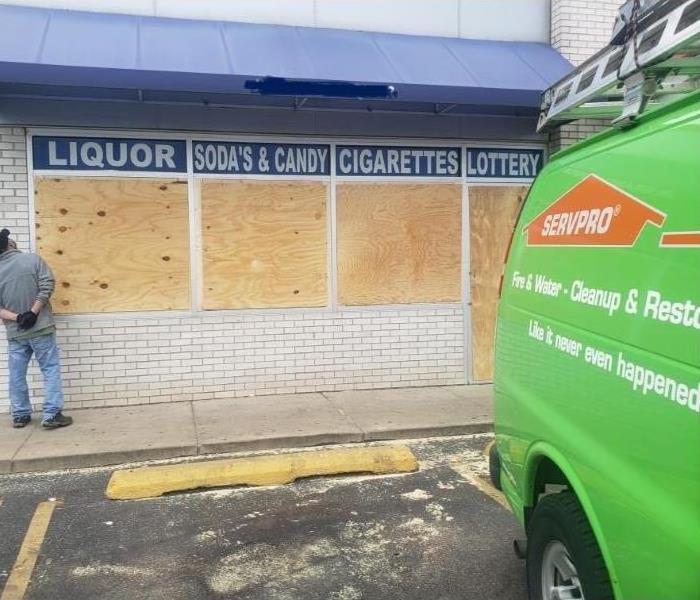 Our board up team at SERVPRO of Gurnee took quick action to secure many local businesses following some riot activity.
Whether your windows are broken by a storm, wind, fire, or vandalism, action must be taken quickly to secure your business until replacement doors and windows can be permanently installed. The board-up professionals at SERVPRO of Gurnee are here to help. We have years of experience securing homes and businesses after damage occurs, and we are available 24/7/365 for this type of emergency.
What is a "board-up"?
Board-up is the process by which we secure windows, doors, and other openings with wooden boards to protect the interior from damage.
Most often, windows and doors are boarded up after severe storms, fire damage, or vandalism that left a building exposed to the elements. Boarding up your business can also protect it from vandalism and theft during the repair process.
Why should broken windows and doors be boarded up?
Some people use sheets of plastic or tarps to seal their building from the elements after damage. In more mild cases, this can be a cost-effective alternative that requires less setup and take down than using wood. However, a tarp is not sturdy enough to protect your business when the openings are particularly large or the environment is unfriendly. If you're concerned about theft or further damage to your building, it's best to use a professional board up service.
How do I board up my own windows?
There are a few steps to boarding up doors and windows after they've been damaged.
First, protect yourself from hazards like broken glass by wearing safety glasses and thick gloves. Long sleeves and pants are also recommended.
Tape over cracks in windows that haven't been completely shattered, or remove them entirely. If you leave a crack untreated, it has the potential of getting bigger and causing further harm.
Measure the window or door frame and cut a board to cover the opening.
Secure the board to the window or door frame, preferably with a power drill. You can also nail the wood in place, though it will take a little longer.
If those steps seem complicated (and they sure can be — measuring and cutting for a large do-it-yourself project like this is no easy task) don't hesitate to reach out for help.
If your business is damaged by a storm or by vandalism, let us take some of the worry away by keeping the interior of your building safe and secure. SERVPRO of Gurnee has seen countless board-up situations, and we are always available for your call at 847-838-2954.