Fire Restoration 101: Structure Cleaning Methods
11/28/2022 (Permalink)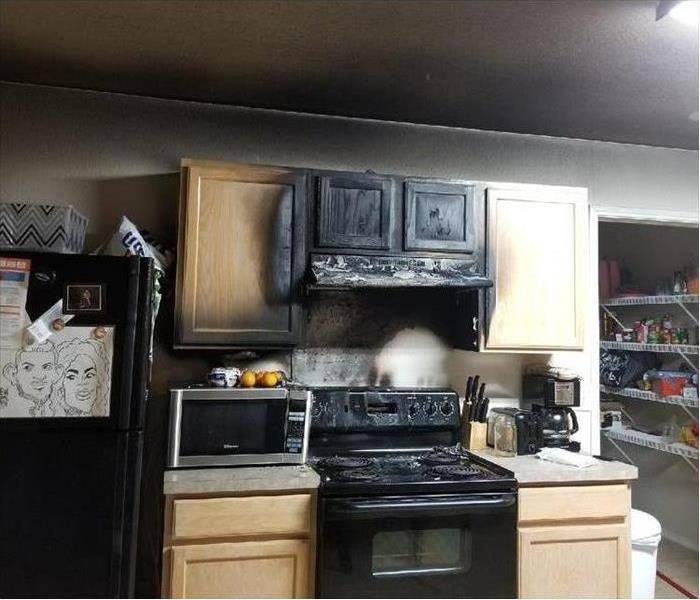 Our trained professionals use specialized methods to ensure that your home is restored completely from soot residue and odors.
In a study of 2018 fire activity published by the National Fire Protection Association, it is estimated that property owners experienced over $11 billion in fire losses across nearly half a million structures. All of these events are unique in circumstance and severity. Before a structure cleaning can begin, it is important to understand the cause and type of the fire as well as the materials affected. The professionals at SERVPRO of Gurnee are experienced in these scenarios and have the training necessary to restore your property fully to its pre-fire condition.
Here are some types of fires and subsequent methods of cleaning:
High Oxygen
High oxygen fires create a dry soot residue, so they are cleaned by first using a dry chemical sponge method. Introducing moisture to a dry soot environment can further lodge the soot into building materials, so removing as much soot as possible before wet cleaning with a low-alkaline detergent and rinsing is crucial.
Low Oxygen
Due to the wet soot this type of fire causes, it must be cleaned with a wet method. We use a high-alkaline detergent to wash walls and structural components.
Kitchen/Grease
Often the most difficult fire to clean, kitchen fires present a soot residue that is often harder to detect. Cabinets, drawers, appliances, etc must often be removed for full access to all residue so that it may be properly removed to eliminate lingering odors.
Remember that SERVPRO of Gurnee is available 24/7/365 to restore your home or business after damage from fire. Our professionals are highly trained and experienced in this type of cleaning, and will work hard to take the worry out of your restoration process. Call us today at 847-838-2954.