Ice Dam Tips for Northern Lake County Home and Business Owners
2/17/2022 (Permalink)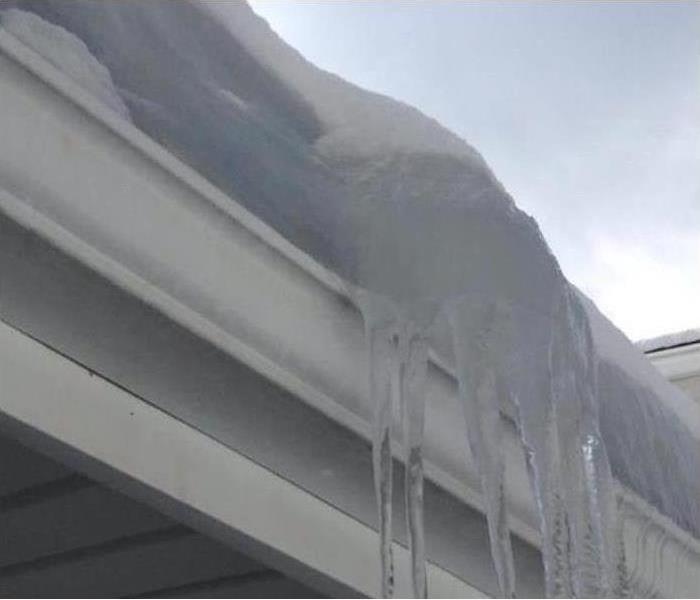 Icicles hanging from your roof might be pretty, but they could be an indication that you may have an ice dam.
An ice dam is a ridge of ice that forms at the edge of a roof and prevents melting snow (water) from draining off the roof. The water that backs up behind the dam can leak into a home and cause damage to walls, ceilings, insulation and other areas. Ice dams usually occur after a heavy snowfall and several days of freezing temperatures. Frequently the result will be a water spot or leak from the ceiling or wall under the roof damage.
Tips for handling and preventing ice dams
Don't get on your roof yourself; it could be dangerous.
Avoid standing on the ground and "chipping away" at the ice. Not only could this cause damage to your roof, but you can be seriously injured by falling ice and debris.
Seal air leaks and duct air leaks in your attic to stop warm air leakage.
Check your attic insulation, replace anything damaged, and add additional insulation. This prevents warm air from your home from getting in your attic.
Provide adequate attic ventilation. Check to make sure attic insulation is not blocking roof ventilation. Your attic should be a temperature similar to the outdoor temperature.
Clean leaves and other debris from gutters before the first snow. This will help prevent ice build-up in gutters.
Have an energy specialist or air sealing professional do an in-home evaluation. A good specialist will use diagnostic equipment to evaluate the performance of your home and generate a customized list of improvements.
If you have experienced interior water damage in your home or business, please utilize the professionals at SERVPRO of Gurnee. Our trained technicians are available 24/7/365 to assist with your water emergencies. Call today at 847-838-2954.